Can Los Angeles ban medical marijuana shops? Voters set to decide.
An initiative to override Los Angeles's ban on medical marijuana dispensaries has qualified for the ballot. Currently, federal, state, and city laws have created a confusing tangle.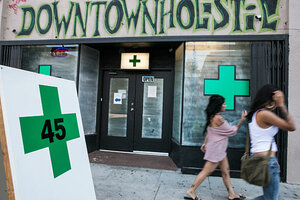 Damian Dovarganes/AP/File
Activists here have qualified a measure for the March ballot that would repeal a Los Angeles City Council ban on medical-marijuana outlets. With medical-marijuana laws in 17 states – and three more states considering legalization for recreational use – Los Angeles highlights the difficulties of regulating and enforcing marijuana laws among often competing federal, state, and local policies.
California was the first state to approve medical marijuana in 1996. But when different locales tried to implement the distribution, there was local resistance – driven by churches, schools, parent groups, and police. These groups cited statistics showing crime going up in areas that had dispensaries. Litigation followed, and the result has been a confusing legal and regulatory tangle, with state law backing medical marijuana, federal law prohibiting it, and cities left to take sides.
With its ban, which took effect Sept. 6, Los Angeles has chosen the federal government's side, saying federal prohibitions against marijuana hold sway. Medical-marijuana advocates hope the ballot measure will bring some clarity to the situation.
"Many local officials don't want to come right out and say, 'We don't like this,' so instead they point to legal impediments which may or may not really be there," says Allen Hopper, director of criminal justice and drug policy for the American Civil Liberties Union of California.
In the meantime, residents are caught in the middle.
---