California's dueling tax hikes: 'Nightmare' ahead?
California Gov. Jerry Brown has asked voters to approve Proposition 30, a tax hike that he says will save the state from fiscal disaster. But another tax plan on the ballot could muddy the waters.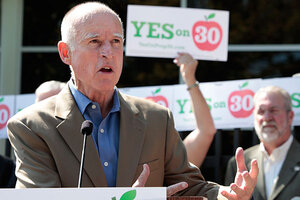 Rich Pedroncelli/AP/File
A potentially serious complication has arisen in California's latest effort to avoid billions in spending cuts, which threaten the state's education and welfare systems.
Gov. Jerry Brown's Proposition 30 intends to forestall "draconian" budget cuts by temporarily raising taxes, including sales taxes and income taxes on the wealthy. The initiative could largely determine his legacy, as well as the state's fiscal health for at least a decade. Moreover, if successful, Prop. 30 could begin to shift the national conversation on taxes after decades of extreme antitax sentiment across the country.
Polls show that a thin majority of state voters support Prop. 30. But that support could be undercut by another proposition that aims to raise taxes for public education. Molly Munger, the millionaire behind the rival initiative, has even suggested she might start airing comparison ads arguing why voters should vote for her proposition, not Governor Brown's Prop. 30.
The mere presence of Ms. Munger's Proposition 38 could cause confusion among some voters, experts say. It could also draw some votes away from Prop. 30. And if both initiatives pass, only the one with more votes would be implemented.
At this point, Prop. 38 has only 34 percent support, according to a recent USC Dornsife/Los Angeles Times poll. But every vote could be precious for Prop. 30. And if Munger turns to "attack" ads, Prop. 30's passage could be in doubt.
The Yes on 30 Coalition – which includes top members of the California Teachers Association, the state Board of Education, and the state Senate – sent a letter Monday to Munger calling on her to avoid negative attacks.
"Any actions to destroy Prop. 30 – the one measure which would prevent $6 billion in cuts to schools and colleges and universities this year and which has a viable path to passage – fly in the face of state goals to improve educational opportunities for our children," says the letter.
Munger, who is the daughter of Charles Munger, a billionaire investor with Warren Buffet's Berkshire Hathaway Corporation, has already spent $30 million of her own money. She says that Brown has exaggerated how much Prop. 30 would help education. "If you're going to say that you're something you're not, we do have to say, 'Well, actually, that's not the case,' " Munger told a local NBC affiliate on Sunday.
---