How Catholics could decide the presidential election
A new study shows that Catholics sit closer to the American political middle than any other major religious group, and they make up a sizable chunk of voters in six key swing states.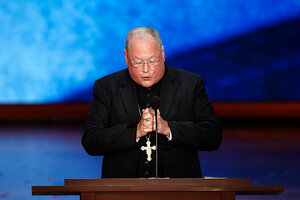 Mike Segar/REUTERS/File
A new report points to the important role that Roman Catholics could play in November's presidential election, showing that they are almost evenly split between President Obama and Mitt Romney and that they are open to both candidates' views of the role the government should play in helping the poor.
Moreover, 2008 exit polls show that at least 23 percent of voters in key swing states such as Ohio, Florida, Nevada, Iowa, New Hampshire, and Wisconsin were Catholic, suggesting that their votes could prove decisive in a tight race this year.
Among the five main religious groups studied by the Public Religion Research Institute (PRRI) and the Brookings Institution, three take clear sides, both in the presidential race and on the role the government should play in society, according to a study of 3,000 likely voters released Monday.
---