How Maryland's gay marriage vote could echo beyond blue states
Maryland is one of three states that could be the first to endorse gay marriage by popular vote. The Nov. 6 referendum will be a test for African-Americans and could hint at a shift in suburbia.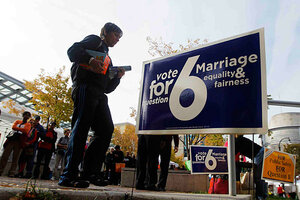 Gary Cameron/REUTERS
The deep-blue state of Maryland isn't the home to much presidential election drama. This year, however, the Old Line State could help snap gay marriage's 14-year losing streak at the ballot box.
Since 1998, 31 states have considered ballot initiatives about gay marriage, and all 31 have voted against it. But when Gov. Martin O'Malley (D) signed a bill in March to legalize gay marriage, conservative lawmakers put the law before voters as a popular referendum Nov. 6 in a bid to stop it. If voters support the law – as polls suggest they will – the referendum could mark the first time in US history that state voters have approved same-sex marriage.
While six states and the District of Columbia have legalized gay marriage, they have done so through legislation or court order. None have been approved by voters.
Come Election Day, Maryland could join two other states as the first to reverse this trend. Like Maryland, Washington State is holding a referendum on an already-passed law legalizing gay marriage. Polls show it ahead. A Maine initiative would permit gay marriages without prior legislative action. Polls show pro-gay marriage forces ahead there, too.
In Minnesota, voters will decide whether to outlaw gay marriage while allowing civil unions. Polls show a tight contest.
A victory in any one of those states would be historic – but because Maryland's polls close alongside Maine's, those two states have a chance to slide into the history books a little ahead of their western counterparts.
---