Democrats reach settlement in Florida early-voting lawsuit
Hours-long lines at early-voting locations in three Florida counties this weekend prevented some people from voting, Democratic lawyers said. But they've struck a compromise with the counties.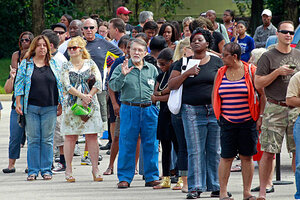 Joe Skipper/Reuters
Lawyers for the Florida Democratic Party settled a lawsuit on Monday filed against election supervisors in three south Florida counties after the officials agreed to allow voters to cast in-person absentee ballots in their offices throughout Election Day.
The settlement came after a flurry of legal motions on Sunday and Monday by Democratic Party lawyers who charged that early voting in Florida had resulted in long, burdensome lines and a growing sense of frustration among voters.
After the infamous recount in the 2000 presidential election, Florida earned an international reputation as ground-zero for election foul-ups. Video footage of long lines of haggard, would-be voters outside a Miami-Dade elections office over the weekend seemed to reignite the infamy.
Similar scenes were playing out across south Florida, where elections supervisors failed to match the number of voting machines with heavy early voter turnout. The result: long lines.
In a complaint filed early Sunday, the lawyers asked a federal judge to order the supervisors of elections in Miami-Dade, Broward, and Palm Beach Counties to provide a safety-valve for frustrated voters. They wanted the elections officials to allow in-person absentee ballot voting at their offices through Election Day on Nov. 6.
The supervisors of elections agreed in three stipulations filed in federal court. Two of the supervisors said they were already permitting such in-person absentee voting. The third agreed to do so.
---