If GOP misfires on bid for Senate takeover, is tea party to blame?
Tea party conservatives are likely to take a drubbing from the Republican establishment if their Senate champions falter on Election Day. But tea partyers dispute any suggestion that they are to blame if Democrats keep control of the US Senate.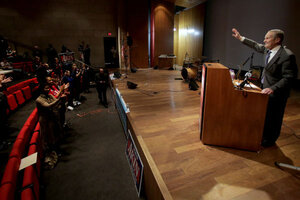 Charlie Riedel/AP
If Republicans fall short on Election Day on their bid to seize control of the US Senate – a plum that not too long ago looked to be within easy reach – the recriminations will be loud and the finger-pointing furious. A likely big target of any internal GOP fury? Tea party conservatives.
Critics would point first to Senate races in Indiana and Missouri as Exhibits A and B for golden opportunities squandered by tea party missteps. In each contest, the GOP nominees, both of whom boast tea party backing, began with big leads that have drained away over the course of their campaigns. In Indiana, state Treasurer Richard Mourdock is in a nail-biter with Rep. Joe Donnelly (D), and in Missouri, polls show GOP Rep. Todd Akin is almost certain to lose to the incumbent Democrat once considered the most vulnerable of all, Sen. Claire McCaskill.
But "blame the tea party" is a familiar refrain – first heard after the GOP left some prize Senate seats on the ground during its big sweep of the 2010 midterm election – and not everyone is ready to buy it this time around.
"What ends up happening is a lot of observers, even those who are not totally clueless about politics ... are probably subsuming Akin and maybe some other conservative examples under the tea party banner, even though there's not a direct link," says political scientist Brian Calfano at Missouri State University in Springfield.
---