As 'fiscal cliff' looms, stock markets shudder at economic 'uncertainty'
Tuesday's election has stirred stock markets' concerns about the economy, with the Dow Jones falling 2 percent Wednesday. The reason: Washington appears poised for gridlock – again.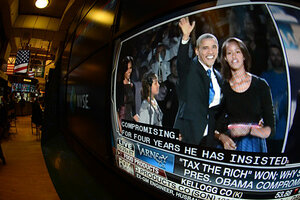 Henny Ray Abrams/AP
For an election that was largely about the economy, the result this week leaves a lot of economic doubts in its wake.
President Obama scored a clear win, but now has unanswered policy questions piled on the White House doorstep.
First among those is what to do about the "fiscal cliff" of scheduled tax increases and federal spending cuts. Unless the president and a politically divided Congress take action, the economy drives over that cliff on Jan. 1.
That may explain, in large measure, why US stock indexes fell sharply on the morning after the vote. The Dow Jones Industrial Average slumped more than 2 percent in early trading Wednesday.
"The re-election of President Obama removes one uncertainty" for investors, economists Paul Ashworth and Paul Dales of Capital Economics wrote in a Wednesday analysis. "But they are none the wiser about if, how and when Congress will deal with the colossal tightening in fiscal policy scheduled to occur early next year."
The tax hikes and spending cuts would dampen consumer spending (by households and by the government), threatening a new recession. Forecasters widely expect some bargain designed to change the cliff into more of a gradual slope.
---