Voting-machine glitches: How bad was it on Election Day around the country?
Long lines were created at polling places around the country because of a broad spectrum of voting-machine glitches on Election Day.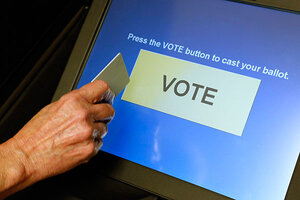 Jonathan Ernst/Reuters
Electronic voting-machine jams, breakdowns, and glitches were strewn across the Election Night landscape, creating long lines when machines simply broke down.
In at least one case, a viral YouTube video purported to show a Pennsylvania machine "flipping" a vote cast for President Obama into a vote for Mitt Romney.
Vote flipping occurs when an e-voting touch-screen machine is not properly calibrated, so that a vote for Romney or Obama is flipped to the other candidate. While the Pennsylvania glitch was reported and the machine reportedly taken out of service and quickly recalibrated, other flipping was reported by news media accounts in Nevada, Texas, North Carolina, and Ohio.
While flipping and other machine problems have been more prominently reported in recent elections, it's still too early to tell just how significant a role e-voting machine glitches may have played in the 2012 presidential election outcome, machine experts say.
An early Monitor analysis shows that four swing states – Pennsylvania, Virginia, Colorado, and Florida – rely to varying degrees on paperless machines.
Early reports by a team of 5,000 lawyers and 3,000 grassroots poll watchers from the nonprofit machine-watchdog group Verified Voting documented scores of cases of e-voting machine glitches. Many of the problems occurred in Virginia, Florida, Pennsylvania, and Colorado, states that still use Direct Recording Electronic (DRE) machines – touch-screen voting equipment that lack any paper backup for later recount.
---