Mark Sanford inches toward redemption, but tea party dark horse looms
Former Gov. Mark Sanford topped the Republican primary for an open seat congressional seat in South Carolina. But his opposition in a Republican runoff – and potentially in the general election – is intriguing.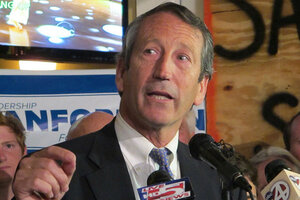 Bruce Smith/AP
Former two-time South Carolina Gov. Mark Sanford, who left office in disgrace after he lied about hiking the Appalachian Trail in order to spend time with a mistress in Argentina, officially began his trek toward political redemption Tuesday by garnering 36 percent of the Republican primary vote ahead of a special congressional election slated for May 7.
The early read shows a likely showdown between Mr. Sanford and Democrat Elizabeth Colbert-Busch, whose brother is the Comedy Central satirist Stephen Colbert. Yet Tuesday's election also revealed a potential Republican dark horse – former Charleston County Commission Chairman Curtis Bostic, a former Marine with tea party bona fides – who could recalibrate the dynamics of the shortened campaign.
Since no Republican candidate received 50 percent of the vote in the Tuesday primary, Sanford and Mr. Bostic will meet in a runoff in two weeks. Ms. Colbert-Busch, on the other hand, earned 95 percent of the vote in the Democratic primary, bolstering the intriguing possibility that a Kennedy-inspired political neophyte could knock off a vulnerable Republican and send a Democrat to Congress from one of the country's most solidly anti-big government corners.
The fact is, while it will be an uphill climb for Colbert-Busch, both potential Republican candidates are particularly vulnerable, especially Sanford.
"Sanford's got the money, and he's got the grasp on the issues, and also he's much closer to the 50-plus-1 percent than Bostic, making him the heavy, heavy favorite," says Knotts Gibbs, the political scientist at the College of Charleston. "The questions for Sanford are on the moral and ethical issues, where Bostic has support from the part of the Republican party that could be most bothered by some of Sanford's past decisions and actions."
---