Why New York mayor's race could be big deal for American liberalism
The new front-runner in the New York mayor's race is Bill de Blasio, the most liberal major candidate in the field. If he wins, it could be a boost for the left nationally.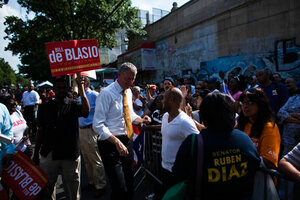 Eduardo Munoz/Reuters
A dramatic August surge has catapulted New York City Public Advocate Bill de Blasio into a surprising double-digit lead with less than two weeks to go before the Sept. 10 Democratic primary.
As late as mid-July, when the mayor's race was dominated by the reemergence of Anthony Weiner, Mr. de Blasio languished in fourth place in most polls, a side story to the new campaign of the charismatic candidate, who energized what many saw as a lackluster race.
But as Carlos Danger and Sydney Leathers receded from the political spotlight, de Blasio, the most liberal voice, began to quietly pick up those voters abandoning the self-imploding congressman from Queens.
Now de Blasio has the backing of 36 percent of likely Democratic voters, up from 10 percent in mid-July, according to a Quinnipiac poll. De Blasio's emergence has even put the loping 6-foot, 5-inch public advocate within reach of the 40 percent threshold needed to avoid an Oct. 1 runoff.
Long-time front-runner Christine Quinn, the City Council speaker and frequent ally of Mayor Michael Bloomberg, is languishing at 21 percent, a statistical dead heat with former Comptroller Bill Thompson, who narrowly lost to Mayor Michael Bloomberg in the 2009 general election. (Mr. Bloomberg cannot run for a fourth term because of term limits.)
Even in a runoff, however, the Quinnipiac poll shows de Blasio easily beating Ms. Quinn, 59 percent to 30 percent, and Mr. Thompson, 52 percent to 36 percent.
---