Alaska senate race: Will Joe Miller win mean less federal money for Alaska?
Alaska's Joe Miller is a fiscal conservative and front-runner for the senate seat now held by Republican Lisa Murkowski. Less seniority in the US Senate will likely mean fewer federal dollars for Alaska, say political observers.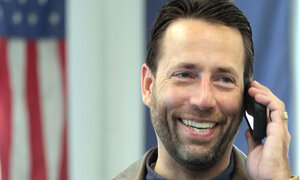 Sam Harrel/Fairbanks Daily News-Miner/AP
The defeat of Republican U.S. Sen. Lisa Murkowski by an upstart fiscal conservative in Alaska's GOP primary could mark a significant shift for a state that has so long relied on federal pork to survive. The outcome was also an unexpected blow to the seniority Alaska has enjoyed in the Senate.
Even as the far northern state stubbornly adheres to its reputation for independence, it relies more heavily on federal spending than any other state, thanks largely to congressional powerhouses such as the late Republican Sen. Ted Stevens.
But a shift in that approach could come in the form of Joe Miller, who defeated Murkowski with the strong backing of Sarah Palin and the Tea Party Express as he campaigned against runaway government spending.
Noting that Alaska has long depended on federal largesse, Miller says the state could work toward self-reliance with more control of its own resources and a reduction in federal regulatory burdens.
He is favored to win in November over Democrat Scott McAdams, a little-known mayor of the southeast Alaska town of Sitka.
Alaska's sole representative in the U.S. House, Don Young, has been adept at bringing federal dollars to the state for almost four decades and no one expects his goals to change.
---