Florida governor race: Bud Chiles out, Rick Scott's No. 2 is Navy vet
Independent candidate Lawton "Bud" Chiles is dropping out of the Florida governor's race. He plans to back Democratic nominee Alex Sink. Republican candidate Rick Scott will announced Thursday that his Lt. Gov. will be State Rep. Jennifer Carroll.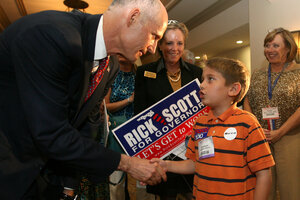 Joe Burbank/Orlando Sentinel/AP
Lawton "Bud" Chiles is dropping out of the Florida governor's race, saying Wednesday that he recognizes he doesn't have enough resources to win the race.
Chiles told The Associated Press he will support Democratic nominee Alex Sink, whom he had lunch with this week to talk about the campaign. He planned a press conference with her Thursday.
"I felt good that we feel more alike than maybe we did a month ago," said Chiles, who said Sink agrees with issues that concern him, including campaign finance reform, more money for early childhood education and a push toward alternative energy. "I'm going to help her beat Rick Scott."

Chiles, the son of former Florida governor and U.S. Sen. Lawton Chiles, is a lifelong Democrat who decided to run as an independent after expressing frustrations with the influence money has on both parties.

In a recent Quinnipiac (Conn.) University poll, Chiles received only 12 percent from registered voters in a three-way race with Sink and Republican nominee Scott.

That same survey taken in mid-August showed Sink with a slight lead over Scott. Chiles' departure is largely seen as an advantage to Sink, whose campaign feared that much of his support would damage her chances.

"I said from the beginning that I wasn't in this to tilt at windmills. I had something deep inside me that I wanted to say," said Chiles. "We probably ran the best $75,000 campaign that you can run."

---