Why Carl Paladino is closing on Andrew Cuomo in NY governor's race
Carl Paladino, a tea party backed Republican candidate, is catching up to front-runner Andrew Cuomo in the race for governor of New York, according to a new poll. Cuomo's lead over Paladino is now down to six percentage points.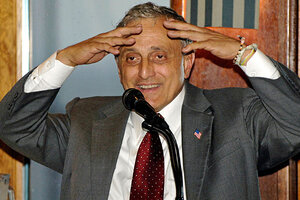 Don Heupel/AP
A poll released Wednesday finds long-shot tea party Republican Carl Paladino is closing in on front-running Democrat Andrew Cuomo in the race for New York governor.
The Quinnipiac University polls showed Cuomo with a 49 percent to 43 percent lead among likely New York voters. Seven percent were undecided.
"The question was whether Carl Paladino would get a bounce from his big Republican primary victory. The answer is yes," said Quinnipiac polling Director Maurice Carroll. "He's within shouting distance and – you can count on it – he will be shouting."
The poll found the straight-talking Buffalo developer, the upset winner in last week's GOP primary, had 34 percent of the support of women voters to Cuomo's 54 percent. But 49 percent of men supported Paladino, compared with 46 percent for Cuomo, the one-term attorney general.
---