GOP 'Pledge to America': Will it help Republicans in 2010 elections?
Thursday morning, GOP lawmakers will unveil the "Pledge to America" – a 21-page document with proposals to slash taxes, spending, and government regulation. It's designed to woo tea party activists and independents in the Nov. 2 election.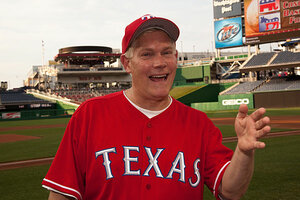 Jeff Malet/Newscom
Republicans are putting their leading midterm congressional campaign arguments into a new manifesto designed to show they're listening to an angry public and are focused on creating jobs.
Thursday morning, GOP lawmakers will roll out their "Pledge to America" – a 21-page document filled with familiar proposals to slash taxes and spending and cut down on government regulation, as well as repeal President Barack Obama's health care law and end his stimulus program.
With polls showing voters disenchanted with Obama, worried about the economy and mad at elected officials, the agenda also vows to change the way Congress works – requiring every bill to cite its constitutional authority, for example, and to be made public for three days before a vote.
"Putting spending, putting the policy of economic growth in place and cleaning up the way Congress works is not only a stark contrast to this president and this Congress," said Rep. Paul Ryan, R-Wis. "It's a contrast to the way we conducted ourselves a decade ago. We spent to much money. We lost our way."
The plan steers clear of specifics on important issues, such as how it will "put government on a path to a balanced budget." It omits altogether the question of how to address looming shortfalls in Social Security and Medicare, which account for a huge portion of the nation's soaring deficit, instead including a vague promise: "We will make the decisions that are necessary to protect our entitlement programs."
---