Can Bill Clinton help Barney Frank?
Former President Bill Clinton made a three-state swing through New England, campaigning for Massachusetts Rep. Barney Frank, Senate candidate Richard Blumenthal in Connecticut, and Libby Mitchell, the Democratic candidate for governor of Maine.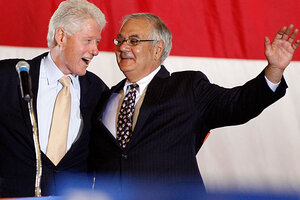 Stew Milne/AP
Former President Bill Clinton rallied the Democratic faithful in New England on Sunday, urging them to support his longtime friend and U.S. Senate candidate Richard Blumenthal in Connecticut and persuade their neighbors not to give in to their anger toward the economy and incumbents.
He also made stops in Maine and Massachusetts, appearing with candidates for governor and other offices.
"Any time in life you make a really important decision when you're mad, there's about an 80 percent chance you'll make a mistake," Clinton told a crowd in New Haven, Conn., estimated by Blumenthal's campaign to be about 2,000. "So the trick is to channel your anger, not be consumed by it."
Blumenthal, a Yale Law School classmate of Clinton's, is in a tight race against Republican Linda McMahon to fill Sen. Chris Dodd's seat.
---
Follow Stories Like This
Get the Monitor stories you care about delivered to your inbox.