Highlights from Brown, Whitman debate for California governor
In their second face-to-face debate, Republican Meg Whitman and Democrat Jerry Brown covered a range of issues, including immigration, health care, and education. The race is too close to call.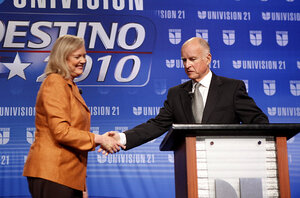 Rich Pedroncelli/AP
Here are some of the issues that arose during Saturday's Univision-sponsored gubernatorial debate that showed a clear contrast between Democratic candidate Jerry Brown and Republican Meg Whitman.
Health care reforms:
The candidates differ greatly on federal health care reforms signed into law earlier this year. Whitman says the law will hurt the economy and should be repealed, while Brown defended it as the best avenue for the uninsured.
"That's the only game in town right now," Brown said. "There will be some problems like, for example, it needs more cost control. But it is a framework to bring in children and to bring in people who have no other way of getting their health insurance."
Whitman focused on the costs to small businesses of implementing the health care overall.
"The problem is Obamacare is going to make it worse for small businesses, not better…. So at a time when we need to make it easier for small businesses, we're going to make it harder.
"We should open up California to more insurance competition so there's more choices for the people, more ability to buy plans. Second, we should make sure that we eliminate the fraud in Medicare and Medi-Cal."
Arizona's immigration law, which requires law enforcement officers to check identification papers if they suspect someone is in the country illegally:
---