Meg Whitman vs. Jerry Brown: Debate gets personal
Meg Whitman and Jerry Brown, candidates for governor of California, debated Tuesday night. It turned ugly in a race where Brown has a small lead in polls.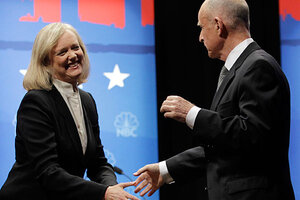 Paul Sakuma/AP
A debate between California gubernatorial candidates turned heated and personal Tuesday as Republican Internet billionaire Meg Whitman and veteran Democratic politician Jerry Brown belittled each other's proposals and abilities.
Brown has a small lead in opinion polls ahead of the Nov. 2 election in the race to run the troubled U.S. state, but the debate showed the former eBay Inc CEO's competitive streak.
California has the largest population of any U.S. state and its economy has been one of the hardest hit in the nation, with unemployment above 12 percent. Jobs and government spending are the top voter concerns in most polls.
Brown went on the offensive early in the debate. He said a tax break that Whitman wants in order to stimulate business was merely a boon to millionaires and billionaires at the expense of schools.
"Ms. Whitman, I'd like to ask you, how much money would you save if these tax breaks were in effect this year or last year?" he asked.
Whitman admitted she would benefit as an investor, then fired back at the former governor, who has been a fixture in state politics for decades.
---