Ron Paul, Herman Cain et al: Why are so many GOP candidates running?
After Mitt Romney and RIck Perry, the polls indicate that few of the other GOP 2012 presidential candidates are drawing much support. DCDecoder looks at what motivates Ron Paul, Herman Cain, Buddy Roemer, and the rest to run.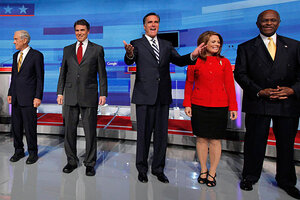 Scott Audette /Reuters
POLITICO's Reid Epstein and Ericka Bolstad of McClatchy put together very similar stories in recent days asking a simple question: What the heck are all of these no-shot presidential contenders doing in the GOP field?
Before the sparks fly, Decoder sympathizes - sort of - with Ron Paul supporters who are melting down right now at the suggestion that Paul belongs in this group. Yes, he polls above everyone else in the POLITICO photo montage shown above. And we would not put him remotely in the same category as, say, Buddy Roemer (anyone heard of him? We think not). But when it comes to Paul's actual chances of winning the nomination… C'mon. It's not going to happen.
Candidate by candidate, here is the DCDecoder take on why GOP presidential hopefuls – not named Rick Perry or Mitt Romney – are still hanging in there.
Ron Paul:
---