GOP debate: What to watch for from Herman Cain and Mitt Romney
Herman Cain's front-runner status makes him a target. Mitt Romney needs to win over more conservatives. Can Rick Perry rebound?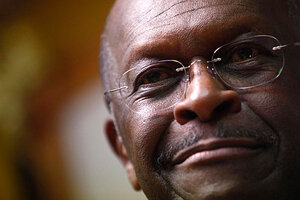 REUTERS/Eric Thayer
Unlikely Republican front-runner Herman Cain faces close scrutiny on Tuesday when the party's hopefuls for U.S. president in 2012 debate in a gambling city famed for separating winners from losers.
Cain will be in the spotlight when candidates face off in a CNN-sponsored debate in Las Vegas at 8 p.m. eastern time but his is not the only significant storyline.
Former Massachusetts Gov. Mitt Romney still has to sell himself to conservative voters who have been looking for an alternative.
Many political experts believe Romney will ultimately be the Republican nominee to face Democratic President Barrack Obama next year but he has a long way to go yet.
Texas Gov. Rick Perry, a staunch conservative, has to prove he can hold his own on stage with his main rivals after four shaky debate performances that knocked him out of the front-runner position.
Cain, a former Godfather's Pizza chief executive and motivational speaker, has shot to the top of polls of Republican voters based on the simplicity of his "9-9-9" growth plan that would overhaul the US tax code.
Experts have questioned whether his idea to cut personal income and corporate taxes to 9 percent, while creating a 9 percent national sales tax, would in fact raise taxes on lower- and middle-income Americans, hurting the most needy.
Cain's economic plan, plus his absence of foreign policy credentials and no experience governing, may surface as a problem just as he begins to gain the attention of voters who find him a much-needed fresh face in politics with an inspirational style.
---