Why Jon Huntsman will boycott the GOP debate tonight
The GOP debate is in Las Vegas tonight. Jon Huntsman and other Republican candidates are worried that the Nevada caucuses will upstage the New Hampshire primary in January.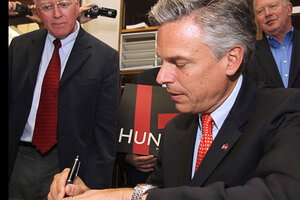 AP Photo/Jim Cole
Tired of waiting for New Hampshire to make a decision, the Iowa Republican Party has gone ahead and set a date: The 2012 Iowa GOP caucuses will be held on January 3.
That leaves open the possibility (unlikely as we believe it to be) that New Hampshire could actually usurp Iowa's customary first-in-the-nation status.
New Hampshire Secretary of State Bill Gardner has been threatening to set a mid-December date for the New Hampshire primary ever since Nevada moved its caucuses up to January 14. (Nevada, for its part, moved after Florida moved its date up to January 31, which then prompted South Carolina to reschedule its primary for January 28. Got all that?)
Here's why. With Iowa's caucuses now officially scheduled (as expected) for January 3, New Hampshire would have to hold its primary just one week later on January 10, only to be abruptly followed just four days after that by Nevada. New Hampshirites apparently feel that this might rob the Granite State of some of its stand-alone importance (and they say it would violate a state law that requires at least seven days between its primary and "any similar election" - though they could technically get around that by saying caucuses aren't the same as primaries). As a result, the state is threatening to upend the whole process and move its primary to December.
---