Four takeaways from the GOP debate in Las Vegas
Rick Perry came out swinging in this debate, notes DCDecoder. Herman Cain's 999 plan took some hits, and Mitt Romney had some red-faced moments.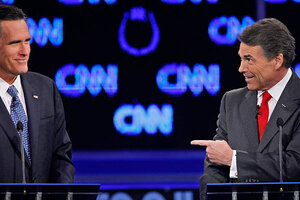 (AP Photo/Chris Carlson)
Didn't catch last night's GOP debate in Las Vegas? We've got you covered. After our liveblogging and a read through this morning's papers (the best of which are linked to below), here's your day-after reader for CNN's "Western Debate."
1. Rick Perry - don't call it a comeback.
Whether it was more sleep, more red bull or more cowbell (just kidding), this was a far different Rick Perry than we've seen in the previous debates. He had a pre-canned attack line on Mitt Romney over some 2007-vintage campaign dirt about illegal immigrants cutting his lawn, he was ready to take on Herman Cain's "999 Plan" and while he sometimes lost his train of thought, he got his awkward three second pauses down to one second pauses.
And Rick isn't stopping there. He's flying through Washington, D.C. this week to meet with politicos and lobbyists and solicit their ideas on his jobs plan and foreign policy. And, as Decoder wrote in our wrapup last night, this next month or so until the next debate swaps Perry's weakest tool (his debate persona) for his strongest suits (retail politics and bombing the airwaves with his massive campaign warchest.)
---
Follow Stories Like This
Get the Monitor stories you care about delivered to your inbox.