Why Herman Cain confounds pundits, and might win the GOP nomination
Herman Cain's leads in the two latest polls, just two months before the Iowa caucus. The case for why Herman Cain could end up with the GOP 2012 nomination.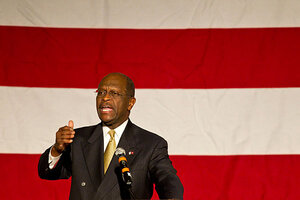 (AP Photo/Beth Hall)
For weeks now, Decoder has been questioning Herman Cain's seriousness as a presidential candidate. In general, we've tended to agree with James Carville, who said on ABC yesterday that there's "zero chance Herman Cain is going to be the nominee." (And even as we write this, we can't resist pointing out that Cain's spending much of this week in Texas and Alabama - two states with essentially zero influence on the nomination process.)
But despite our deep skepticism, we've also noted that Cain is still leading the GOP field in two recent national polls - CBS News/New York Times and Fox News. This, even as he has come under far greater scrutiny and attack.
Which has us kind of, sort of, starting to wonder: Is there a chance - even a small one - that this guy could actually win?
We're not the only ones starting to think this way.
---