Herman Cain: Sexual harassment allegations help campaign fund raising
Herman Cain raised $400,000 Monday, as Cain attempted to clear up confusion over his different accounts about the harassment controversy.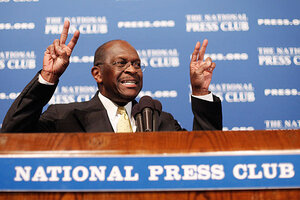 (AP Photo/Pablo Martinez Monsivais)
The legal bills are climbing.
All parties associated with the allegations of sexual harassment by Herman Cain in the 1990s are now consulting their respective lawyers about what they can or cannot say. And the resolution is likely to influence how much longer this is an issue for the Herman Cain campaign. Meanwhile, the controversy is helping - not hurting - his campaign funding.
Republican presidential candidate Herman Cain on Tuesday declared himself the victim of a "smear campaign" - and that his campaign raised more than $400,000 on Monday. Cain spent Tuesday attempting to clear up confusion over conflicting accounts he gave about the controversy, in which two women reportedly accused him of sexual harassment when he was head of the National Restaurant Association in the 1990s.
The lawyer for one of the women asked the association to release her from a confidentiality agreement to allow her to tell her side of the story, since Cain was telling his, The Washington Post reported.
"It's just frustrating that Herman Cain is going around bad-mouthing the two complainants, and my client is blocked by a confidentiality agreement," lawyer Joel Bennett told the newspaper.
"My client made a good-faith, honest complaint of sexual harassment," the attorney said in a separate interview on CNN.
Bennett said his client was still deciding whether she wants to go public if the restaurant association releases her from a confidentially agreement.
---