Herman Cain's defense in his own words
On Monday, after Sharon Bialek made new allegations about sexual harassment, Herman Cain released a statement attacking the media's coverage of his campaign.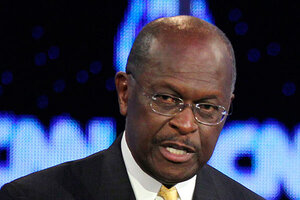 (AP Photo/Chris Carlson, File)
On Monday afternoon, Herman Cain released an unusually long statement in which he excoriated the media (and particularly Politico - which first broke the story of sexual harassment allegations against him) for engaging in a "hatchet job." In a defiant tone, Mr. Cain declared he would not play by the media's "rules" because, as he put it, "these rules stink."
It's by far the most lengthy, full-throated defense Cain has put forward in response to this whole series of allegations (though it does not address Monday's press conference by Sharon Bialek). There are now reports that Cain will hold a press conference this afternoon (Tuesday) in Phoenix, to "set the record straight."
Here is Monday's statement in full:
"I am a serious person, seeking the opportunity to do a serious and very important job. Our nation has very serious problems, particularly of an economic nature, and Barack Obama does not have the skill, knowledge or will to solve them.

I do.

Unfortunately, the media-driven process by which one must seek this opportunity is fundamentally unserious. I have touched on this before – the emphasis on "gaffes," gotcha questions and time devoted to trivial nonsense – and everyone knows the process only became further detached from relevance this week as the media published anonymous, ancient, vague personal allegations against me.

Once this kind of nonsense starts, the media's rules say you have to act in a certain way. I am well aware of these rules. And I refuse to play by them.

There are several reasons for this. One is that, lest anyone forget, we actually have serious matters to talk about. Since the media went bananas over this so-called story, my schedule has not changed in the slightest. I have continued to make all planned public appearances. I have continued to answer questions about my 9-9-9 tax reform plan. I have continued to do everything else that our strategy proscribes.
---