GOP debate: Will Newt Gingrich widen lead over Mitt Romney?
Newt Gingrich leads the GOP presidential candidate race, say polls. Will the gap between Gingrich and Mitt Romney widen during tonight's CNN GOP debate over Iran, Pakistan, and other foreign policy issues?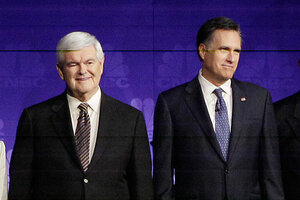 AP Photo/Paul Sancya
The Republican presidential hopefuls meet on Tuesday for their second foreign policy debate in 10 days, with Newt Gingrich looking to extend a campaign surge that has propelled him to a lead over Mitt Romney in polls for the 2012 race.
The debate will shine a spotlight on Republican differences over Iran, Pakistan, the use of waterboarding, and foreign aid in a race that so far has focused largely on economic issues and featured few policy clashes among the top contenders.
Gingrich, Romney and six other Republicans take part in the 8 p.m. debate at Washington's DAR Constitution Hall, which airs live on CNN.
IN PICTURES: Newt Gingrich now and then
Gingrich could have the most to lose in Tuesday's showdown. He is the latest in a series of conservatives to challenge the more moderate Romney for the top spot in the Republican race for the right to face Democratic President Barack Obama in 2012.
A CNN/Opinion Research poll on Monday showed Gingrich, a former speaker of the U.S. House of Representatives, with a 4-point national edge over Romney, the former Massachusetts governor who has hovered near the top of polls all year.
---