Newt Gingrich in the media crosshairs
Newt Gingrich's rise in the polls is followed by the inevitable closer look at his record. Can Newt Gingrich survive the scrutiny?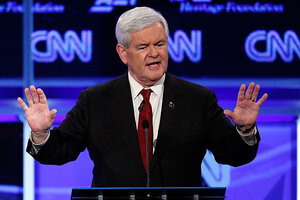 (AP Photo/Evan Vucci)
Newt Gingrich, welcome to the top of the pack.
After Herman Cain's rapid ascent, journalists everywhere turned their poison pens to the new GOP frontrunner. We detailed Cain's trip through the press wringer here.
Now, it's Gingrich's turn.
That first quote is from this POLITICO piece where other brainy conservatives take the former Speaker's intellectual bona fides down a peg.
Then, you might consider a look at these two pieces, one from iWatch News and one from POLITICO, that delve into Gingrich's work as a lobbyist advocate in his think tank and two for-profit groups which raked in $100 million in revenue over the last decade.
While Gingrich has vowed he was never a lobbyist, one conservative scholar at the American Enterprise Institute - where Gingrich once held a post - notes that "if I were to write a Wikipedia definition of lobbying it might not be all that different from their description" while adding that Gingrich's enterprises "may have avoided lobbying members face to face."
That's in addition to Bloomberg's widely-reported findings of Gingrich's work for favored conservative punching bag (and government-sponsored mortgage behemoth) Freddie Mac, which netted him $1.6 million over several years.
---