Ginger White gives another TV interview, Herman Cain undeterred
Ginger White tells Good Morning America that Cain would not be a good president. Herman Cain says he's not dropping out of the GOP presidential race.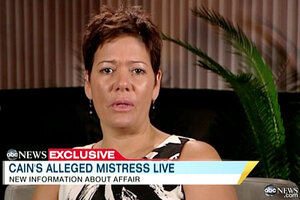 ABC-TV
Herman Cain sent an email to supporters Tuesday night seeking to quell reports that his campaign's demise may be imminent. In it, he calls Ginger White's claim of a 13-year extramarital affair with him "completely false" and says he is "not deterred" (though he acknowledges that recent events have "taken a toll" on him).
And Cain's campaign manager, Mark Block, emphatically told ABC News in an interview Tuesday night that "there's no way he's dropping out."
On Wednesday morning, Ginger White appeared on ABC's Good Morning America. When asked by George Stephanopolous if Cain be a good President, the 46-year-old single mother of two said: "No I do not…My views are different than his views. This is not political, and I've never tried to make it out to be that."
Here's the Cain email:
Dear Patriots and Supporters,
As you probably heard yesterday, a troubled Atlanta business woman used national media outlets to promulgate a fabricated, unsubstantiated story about a 13 year affair with me. I am writing you today to assure you that this woman's story is completely false.
---