Rick Santorum, Iowa's Dark Horse candidate, gaining ground
Rick Santorum is finally rising in the polls in Iowa. And Santorum gained a key evangelical Christian leader's endorsement Tuesday.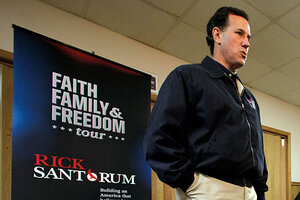 (AP Photo/Charlie Riedel)
The headline out of the latest Rassmussen poll surveying Republican voters in Iowa is all about Newt Gingrich's continuing slide. The poll shows Gingrich now in third place, with 17 percent, behind Mitt Romney (25 percent) and Ron Paul (20 percent).
But just as interesting to Decoder is the fact that the poll also shows former Pennsylvania Sen. Rick Santorum now in fourth place, with 10 percent (tied with the other Rick, Perry). That's the best result for Santorum so far this cycle. In fact, it's the first significant movement he's had in any poll at all - and, needless to say, it's coming at an opportune time.
Tuesday, Santorum got the coveted personal endorsement of Bob Vander Plaats, a prominent evangelical leader in Iowa. And a Super PAC supporting Santorum just dropped $350,000 to run TV ads on his behalf in Iowa. That's far less than the millions Perry has spent, but it puts Santorum well ahead of Gingrich and Michele Bachmann in terms of airtime.
Santorum has been like the Little Engine that Could in Iowa - among all the candidates, he alone has visited all 99 counties, racking up far more time in the Hawkeye State than any of his rivals. Yet for months, his poll numbers remained stubbornly mired in the low single digits. Now it appears some of his hard work may finally be paying off.
---