Mitt Romney's next big test isn't N.H. or S.C., it's Florida
Mitt Romney has to do well in New Hampshire and South Carolina. But Florida could make Romney the defacto GOP 2012 nominee.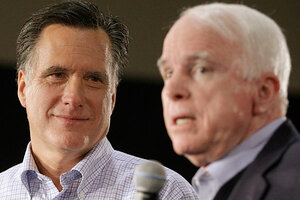 (AP Photo/Stephan Savoia)
After Tuesday's photofinish in Iowa - in which Mitt Romney edged Rick Santorum by just 8 votes - all the candidates are pounding the streets of New Hampshire, which casts ballots in just 5 days.
But the state that's looming over this race as most likely to decide it won't actually vote for 27 more days: Florida.
Romney has long held a big lead in New Hampshire. Given his history in the state, and the role independents play in the voting, he's almost certain to win there. The only question is whether Rick Santorum can translate his strong showing in Iowa into a surprise - placing a strong second or third in the Granite State. How close Santorum can come will have an impact - either reinforcing his status as a legitimate threat to Romney or hinting he's likely to go the way of Mike Huckabee in 2008.
But New Hampshire is unlikely to change the fundamental shape of the race.
---