Rick Santorum gains in N.H., but Mitt Romney still leads, says new poll
Rick Santorum rose to 11 percent, but still trails Ron Paul and Mitt Romney, says a new 7 News/Suffolk University poll.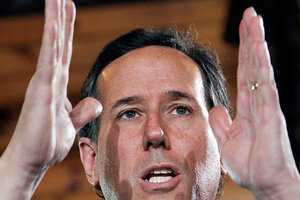 AP Photo/Elise Amendola
Fresh from his strong showing in Iowa, Republican U.S. presidential candidate Rick Santorum has picked up support in New Hampshire ahead of its primary next week, but rival Mitt Romney holds a sizeable lead, according to a poll released on Friday.
Santorum, a former U.S. senator from Pennsylvania, had 11 percent support, up from 8 percent, among likely voters in New Hampshire's primary, according to a 7 News/Suffolk University tracking poll conducted on Wednesday and Thursday.
New Hampshire's primary on Tuesday will be the second in a series of voting contests to choose a Republican nominee to face Democratic President Barack Obama in November's election.
RECOMMENDED: 9 things to know about Rick Santorum
Since finishing narrowly behind Romney at the Iowa caucuses on Tuesday, Santorum has moved ahead of Newt Gingrich, former U.S. House of Representatives speaker, and former Utah Governor Jon Huntsman in the New Hampshire survey.
---