Mitt Romney in trouble in New Hampshire? Not really.
Mitt Romney faces media spin that belies a reality: Romney is about to become the first non-incumbent Republican to win both New Hampshire and Iowa.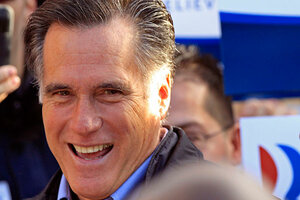 REUTERS/Adam Hunger
Mitt Romney is poised to win the New Hampshire primary tonight, possibly by double digits, becoming the first non-incumbent Republican ever to win both Iowa and New Hampshire.
In response to this historic feat, the media has naturally been declaring that … 1) Romney is in trouble, and, 2) the real story here is the fight for second place.
Pundits and analysts are declaring this Romney's "worst 48 hours" of the campaign: He's slipping up on the stump, making comments about pink slips and firing people! Fellow Republicans are attacking him as a corporate raider! He might only win New Hampshire by (gasp) seven or eight points!
We can't really blame those who still seem to be rooting for a fight. It's hard to keep writing/talking about a campaign with an entirely predictable outcome in which the all-but-certain-winner is not exactly the most exciting guy in the room. Plus, while the outcome may seem assured, mathematically, Romney can't seal the nomination until April - which means that, technically speaking, a surprise could still happen.
One interesting question, in Decoder's mind, is to what extent the media's need to keep the storyline going - as Romney slowly works his way toward the necessary delegate total - may actually impact the race. Will discussions of Romney's "weakness" as a candidate make him a weaker candidate? Could media attention help today's second-place finisher make a meaningful dent in Romney's dominance?
Ultimately, we think probably not. It's true the recent attacks on Romney's corporate record go right to the heart of his main strength (business experience) and may chip away at his standing in the polls. On the other hand, recent polls have shown him with double-digit leads in South Carolina, and Florida - so there's room for some erosion. Moreover, we tend to side with the argument that this rough patch could actually help inoculate him against future such attacks (see: Obama, Barack, and Rev. Jeremiah Wright).
---