Mitt Romney's 15 percent tax rate: How does it compare to Obama or Perry?
Mitt Romney said Tuesday his tax rate is about 15 percent of his income. Barack and Michelle Obama paid 25 percent.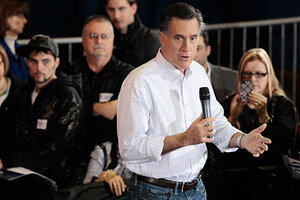 AP Photo/Charles Dharapak
Mitt Romney never has coughed up his tax returns. But Tuesday, he told an audience in South Carolina he pays "closer to the 15 percent rate than anything."
"What's the effective rate I've been paying? It's probably closer to the 15 percent rate than anything," Romney said. "Because my last 10 years, I've … my income comes overwhelmingly from investments made in the past, rather than ordinary income or rather than earned annual. I got a little bit of income from my book, but I gave that all away. And then I get speaker's fees from time to time, but not very much."
Romney fumbled and stumbled to describe why and when he'd release his tax returns in South Carolina during Monday night's debate before offering a little more light Tuesday. What's striking is that Romney didn't release his tax returns when he was a candidate for governor of Massachusetts, nor during his governorship, nor during the 2008 campaign.
---