The prophecies of Ron Paul
In 2002, Rep. Ron Paul of Texas made a series of predictions about the US and the world. DCDecoder looks at Ron Paul's prophecies and his consistency.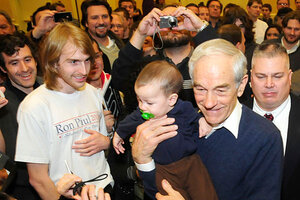 (AP Photo/The Spartanburg Herald-Journal, Alex C. Hicks Jr)
Just under 10 years ago, Ron Paul took the floor of the US House and laid down a few predictions for the coming decade. Among them, these gems — remember, this was 2002, after the invasion of Afghanistan but before the invasion of Iraq.
"The United States, with Tony Blair as head cheerleader, will attack Iraq without property authority and a major war, the largest since World War II, will result."
"Erosion of civil liberties here at home will continue as our government continues to respond to political fear… by making generous use of the powers obtained with the Patriot Act." The National Defense Authorization Act, everybody!
To paraphrase Paul, government will grow to record levels, satisfying both left and right as liberals gain an expansion of the welfare state and conservatives see more security spending.
A broad oil boycott hasn't happened yet - and it's unclear who is going to be imposing the boycott - but if Iran closes the Strait of Hormuz in retaliation for US sanctions boycotting Iranian oil, oil prices would skyrocket and you could count this one, too.
---