State of the Union driven by economy, election
The President's speech called for tax reform and government accountability.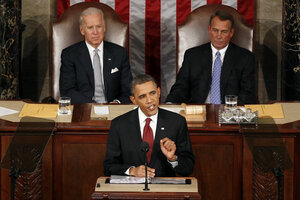 J. Scott Applewhite/AP
Declaring the American dream under siege, President Barack Obama called Tuesday night for a flurry of help for a hurting middle class and higher taxes on millionaires, delivering a State of the Union address packed with re-election themes. Restoring a fair shot for all, Obama said, is "the defining issue of our time."
Obama outlined a vastly different vision for fixing the country than the one pressed by the Republicans challenging him in Congress and fighting to take his job in the November election. He pleaded for an active government that ensures economic fairness for everyone, just as his opponents demand that the government back off and let the free market rule.
Obama offered steps to help students afford college, a plan for more struggling homeowners to refinance their homes and tax cuts for manufacturers. He threw in politically appealing references to accountability, including warning universities they will lose federal aid if they don't stop tuition from soaring.
RELATED: State of the Union Transcript
Standing in front of a divided Congress, with bleak hope this election year for much of his legislative agenda, Obama spoke with voters in mind.
"We can either settle for a country where a shrinking number of people do really well, while a growing number of Americans barely get by," Obama said. "Or we can restore an economy where everyone gets a fair shot, everyone does their fair share, and everyone plays by the same set of rules."
A rare wave of unity splashed over the House chamber at the start. Rep. Gabrielle Giffords, survivor of an assassination attempt one year ago, received sustained applause from her peers and cheers of "Gabby, Gabby, Gabby." She blew a kiss to the podium. Obama embraced her.
---