Newt Gingrich: Space visionary and future Geek-in-Chief?
Newt Gingrich proposed a US moon base and $1.8 billion in prize money for space innovations. Gingrich spoke Wednesday at Cocoa, Fla., near the Kennedy Space Center.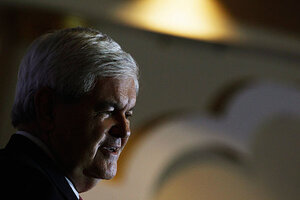 REUTERS/Shannon Stapleton
Republican presidential contender Newt Gingrich called on Wednesday for a base on the moon and an expanded federal purse for prize money to stimulate private-sector space projects.
"We want Americans to think boldly about the future," Gingrich said during a campaign rally in Florida, where he outlined a space policy initiative that would cut NASA's bureaucracy and expand on private-sector space programs championed by President Barack Obama.
"By the end of my second term, we will have the first permanent base on the moon and it will be American," Gingrich said.
RECOMMENDED: Are you a true Geek? Take the quiz.
"We will have commercial near-Earth activities that include science, tourism and manufacturing, because it is in our interest to acquire so much experience in space that we clearly have a capacity that the Chinese and the Russians will never come anywhere close to matching," he said.
Gingrich is locked in a close battle with former Massachusetts Governor Mitt Romney as Florida prepares to vote on Tuesday in the Republican presidential primary. Republicans are seeking a nominee to challenge Democrat Obama in the November election. The rally in Cocoa was just down the road from the Kennedy Space Center.
---