Mitt Romney then and now: 2008 vs. 2012 presidential run
Mitt Romney dropped out of the 2008 GOP primary race on this date in 2008, after winning 11 states. What did Romney say then?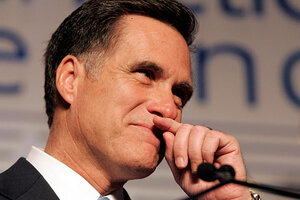 (AP Photo/Steve Helber/File)
On Feb. 7, 2008, Mitt Romney was in a very different position.
He had competed hard with Arizona Sen. John McCain (R) and captured Nevada, just like he did this year, but came up short in Florida and New Hampshire, both states he won in 2012. He had poured gobs of his own money into the campaign en route to winning 11 states including his native Michigan and the state where he was governor, Massachusetts, but his prospects for capturing the nomination looked dim.
And so on the stage of the Conservative Political Action Conference, one of the nation's premiere gatherings of top right-leaning talent, he ended his campaign for the presidency.
That speech, which you can read in its entirety here, gives a window into where the country - and the GOP - stood heading into the last presidential election. Here are five moments from Romney's 2008 speech that are worthy of reappraisal today.
5. "I'm convinced that unless America changes course, we could become the France of the 21st century. Still a great nation, but not the leader of the world, not the superpower. And to me that's unthinkable."
---