Why Mitt Romney isn't worried about Rick Santorum, yet
Rick Santorum's wins in Minnesota, Colorado, and Missouri aren't going to mean much unless Santorum can raise more money, says DCDecoder.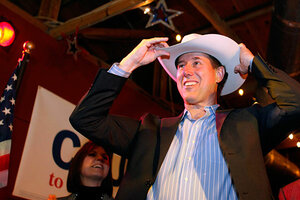 Sharon Ellman/AP
Rick Santorum piled up as many victories on Tuesday – in Colorado, Minnesota, and Missouri – as Mitt Romney has in the campaign to date. If you're like Decoder, then you've been plowing through gigabytes of digital knowledge on what this means for the GOP presidential race.
With March (and its ensuing madness, of the basketball variety) right around the corner, let's use a quick analogy to explain what happened Tuesday night.
Mr. Santorum is the gritty mid-major school that no brand-name hoops team wants to play. Why? Because the big school doesn't gain anything by winning but stands to lose a lot if it comes up short.
In college hoops, it doesn't help the University of North Carolina to beat Creighton – they're UNC! They're supposed to beat Creighton! (Quick: What state is Creighton in?) But if a tough Bluejays team holds on for a win … oh boy. Then you've got a story.
Mr. Romney (UNC) didn't want to play Santorum (Creighton) in Tuesday's bouts.
Remember: When Newt Gingrich surged in Iowa, Mitt Romney blew him away with a crush of advertising.
---