Rick Santorum asks CPAC conservatives to 'honor' their true values
Rick Santorum played down organization and fundraising in his speech Friday at CPAC. Instead, Santorum appealed to CPAC conservatives' principles.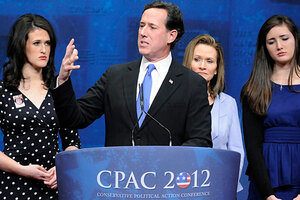 Jonathan Ernst/REUTERS
Rick Santorum didn't ask a packed ballroom at the Conservative Political Action Conference (CPAC) for their vote, exactly. He called for their honor.
"I am asking for your honor. To put your honor on the line. Honor is a term that's not used very often in America anymore. But it's exactly what's at stake," the former Pennsylvania senator and GOP presidential candidate said Friday morning.
"Please, walk out of this gathering and choose the candidate that you believe is the right person to lead this country, not just to victory but to the changes that are necessary for that victory to be won, that you can say 'I have done my duty and I have kept my honor.' "
The message jibed with Mr. Santorum's broader appeal to some 10,000 activists, volunteers, students, and conservative media members assembled at CPAC, the annual conservative confab in northwest Washington, D.C.
Honor, in Santorum's case, means a longstanding fidelity to traditional social conservative positions.
"Let's just take a look at that in the Republican field. Who has the boldest contrast [with President Obama]? Who has the record they can run on?" Santorum said.
Foster Friess, the mutual-fund millionaire who has poured money into a pro-Santorum "super PAC," said in his introduction of Santorum that nominating a true-blooded conservative is the only way forward for the Republican Party.
---