Is Rick Santorum benefitting from a Bella Bounce?
Forget the sweater vest. Rick Santorum's surge in the polls could be traced back to his daughter's brief hospitalization. It cemented Santorum's "family man" image, and softened some criticisms.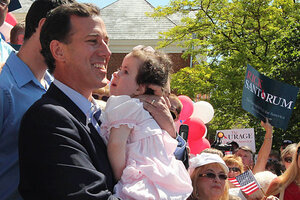 AP Photo/Gene J. Puskar, File
It's been widely noted that Rick Santorum's rise in the GOP nominating contest has coincided with a shift in focus away from economic matters that have (arguably) favored Mitt Romney, and toward social issues that play to the former Pennsylvania senator's strengths among conservatives.
In particular, as the spotlight turned in recent weeks to the administration's battle with the Catholic Church over mandated contraception coverage under the new healthcare law, it seemed to create a real opening for Santorum - who has long been calling Romney "uniquely unqualified" to challenge President Obama on hot-button conservative bete noires like Obamacare.
But looking back over the landscape of the past few weeks, we think there was another factor that was absolutely pivotal in propelling Santorum to where he is today: The much-covered (and thankfully brief) hospitalization of his daughter, Isabella. As you may recall, Santorum left the campaign trail just days before the Florida primary to be with his 3 year-old daughter, who has been diagnosed with a rare genetic disorder and had been hospitalized with pneumonia. The coverage was, understandably, strongly sympathetic, and it brought fresh attention to Santorum, who was then struggling in the shadow of the Romney-Gingrich slugfest.
---