Why conservative critics are now backing Mitt Romney
Conservative Republican critics of Mitt Romney are now lining up behind him, in part because the bruising primary race is hurting the GOP in the eyes of voters, say polls.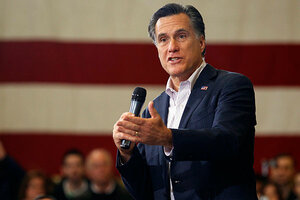 REUTERS/Brian Snyder
Heading into Super Tuesday, perhaps the biggest thing Mitt Romney has going for him is this: Republicans seem ready for this thing to be over.
This was not the case going into previous primary contests. Indeed, more than any other factor, the driving force behind Rick Santorum's wins in Colorado, Minnesota, and Missouri, and Newt Gingrich's win in South Carolina, seemed to be that voters wanted the process to go on. They weren't enamored of Romney, they liked the idea of backing an underdog, and they wanted to shake up the race.
That could still happen, of course - but this time, we don't think it will.
Remember Sarah Palin urging voters to "keep this vetting process going, keep the debate going" by voting for Newt? Well, it's been a while since Palin – or any other high-profile GOP figure - has offered that message.
---