Where GOP candidates stand on Rush Limbaugh remarks
What did Mitt Romney and the GOP candidates say about Rush Limbaugh's remarks about law student Sandra Fluke?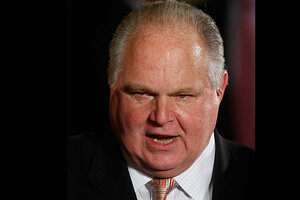 (AP Photo/Ron Edmonds, File)
Slate's David Weigel helpfully compiled all the GOP candidates' responses to the Rush Limbaugh controversy over the talk show host calling Georgetown University law student Sandra Fluke a "slut" and a "prostitute." Slate noted that not one of the Republican candidates actually disagreed with Limbaugh's basic point about health-care coverage of contraception, just with his language.
Here's what the four candidates said:
Romney: "I'll just say this, which is, it's not the language I would have used."
Gingrich: "I am astonished at the desperation of the elite media to avoid rising gas prices, to avoid the President's apology to religious fanatics in Afghanistan, to avoid a trillion dollar deficit, to avoid the longest period of unemployment since the Great Depression, and to suddenly decide that Rush Limbaugh is the great national crisis of this week."
Paul: "I had said he used very crude language, and I think he gets over the top at times. But it's in his best interest. That's why he did it. I don't think he's very apologetic. He's doing it because some people were taking advertisements off his program. It was the bottom line that he was concerned about."
Santorum: "He's being absurd. But that's, you know, an entertainer can be absurd. And - and he's taking the absurd, you know, the absurd - absurd, you know, sort of, you know, point of view here as to how - how far do you go? And, look, he's in a very different business than I am. I'm concerned about the public policy of this president imposing his values on the people on people of faith who morally object to - to the government telling them they have to do something which they believe is a grave moral wrong."
---