Newt Gingrich: $50 per photo as campaign struggles
Newt Gingrich is now charging $50 to take a photo with him in order to raise campaign funds, reports the National Journal. The Gingrich campaign is now $1.6 million in debt.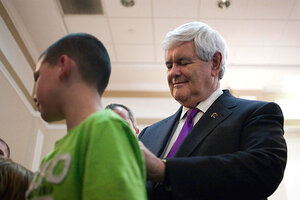 (AP Photo/Jessica Kourkounis)
Newt Gingrich's Southern strategy to get back into the race for the Republican presidential nomination has collapsed, and his campaign is in the red, but the former US House of Representatives speaker is marching on.
In Delaware Monday, Gingrich started charging $50 to anyone who wanted to take a photo with him following a campaign speech to Republicans.
"Some campaigns make you travel all the way to Wall Street to pay $2,500 for a photo with a candidate," a Gingrich spokesman told the National Journal, which broke the story. "We are trying out a new tactic and asking our supporters at our rallies for a nominal donation. And guess what, it is working."
Gingrich has about $1.6 million in debts, according to his last campaign finance report.
RECOMMENDED: Eight of Newt Gingrich's unorthodox ideas
Surrounded by a tight-knit team that includes his daughters and his third wife, Callista, Gingrich appears to be enjoying the campaign trail despite his dwindling electoral fortunes. Disliked by his party's establishment, he still receives regular affirmation from die-hard fans and time in the national spotlight.
"He is enjoying himself and it doesn't bother him that a lot of people are spending time, money, and emotion trying to get him votes that are moot," said Jack Glaser, associate professor at the University of California Berkeley's Goldman School of Public Policy, adding that Texas congressman Ron Paul was in the same boat.
---