North Carolina ready for constitutional ban on gay marriages, says poll
North Carolina will vote Tuesday on a constitutional amendment to ban same-sex marriages and civil unions. One North Carolina poll shows only 38 percent oppose the ban.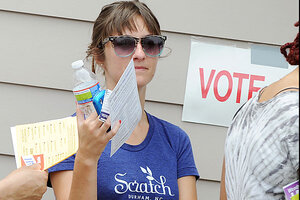 (AP Photo/The Herald-Sun, Bernard Thomas)
North Carolina voters could deal a blow to efforts across the country to expand gay marriage rights if they approve a state constitutional amendment on Tuesday to ban same-sex marriage and civil unions.
The state is the only one in the Southeast without such a constitutional prohibition, though same-sex marriage is already outlawed by statute.
The amendment is being decided amid heightened rhetoric about gay marriage from officials in the Obama administration. U.S. Vice President Joe Biden said on Sunday he was "absolutely comfortable" with allowing same-sex couples to wed, and Education Secretary Arne Duncan said gay marriage should be legal.
RECOMMENDED: Six different ways states handle gay marriage
President Barack Obama has said he favors civil unions but has stopped short of supporting gay marriage.
Supporters of the proposed amendment in North Carolina, a swing state in the Nov. 6 presidential election, say it would preserve the sanctity of marriage between a man and a woman and make laws forbidding gay marriage harder to repeal.
Opponents say a ban would jeopardize health insurance benefits for unmarried gay and heterosexual couples and signal that the state is unfriendly to a diverse workforce.
Former President Bill Clinton, a Democrat, recorded a call just ahead of the vote urging North Carolinians to reject the proposed amendment.
---