New Obama video slams Romney as 'backwards' on gay marriage
The Obama 2012 campaign released a new video Thursday titled "Mitt Romney: Backwards on Equality." It criticizes Mitt Romney's position on gay marriage.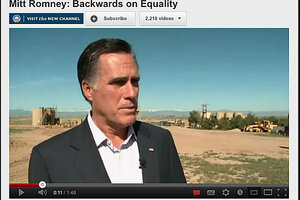 Obama 2012 Campaign
President Barack Obama's campaign moved quickly Thursday to capitalize on his newly announced support for gay marriage, releasing an Internet video that calls his Republican challenger backward on the highly divisive social issue.
Obama broke from his long-claimed indecision on the issue to express outright support for the right of homosexual couples to marry. He spoke during an ABC television interview Wednesday.
On Thursday morning, his campaign released an Internet video titled "Mitt Romney: Backwards on Equality."
It opens with Obama saying same-sex couples should have the right to marry, then shows a clip of Romney saying Wednesday that he opposes gay marriage and favors rolling back some rights for same-sex couples.
IN PICTURES: The gay marriage debate
The video also seeks to portray Romney as out of touch with the majority of Americans, saying even former Republican President George W. Bush supported civil unions, a step short of marriage.
Obama aides hope the president's support of gay marriage will energize Democrats, particularly younger voters, though they acknowledge the issue could hurt him with socially conservative independent voters.
Obama's changed stand on gay marriage will, however, find a welcome audience Thursday night in Hollywood. He will speak to the gala event of the political season — a sold-out, record-setting fundraiser at the home of movie star George Clooney.
---