Why aren't more conservatives donating to Mitt Romney?
Mitt Romney raised $40 million last month. But an analysis of Romney's fundraising shows that many wealthy conservatives, who backed rivals Rick Santorum and Newt Gingrich, aren't donating to Romney's campaign.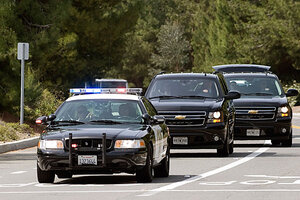 AP Photo/The Orange County Register, H. Lorren Au Jr.)
Republican frontrunner Mitt Romney and his party raised a sizable $40 million last month from donors who want him to replace President Barack Obama. But even as Romney solidifies his position as the eventual GOP nominee, many supporters who backed his primary election challengers have not yet come to his aid.
An Associated Press review of campaign finance data found that only a few hundred donors who contributed to candidates like Newt Gingrich or Rick Santorum have changed course and gave to Romney's campaign or the Republican Party in April. That's as GOP stalwarts and some former rivals have called on supporters to rally around Romney's White House run.
Romney is hardly hurting for cash, having reported more than $61 million in the bank by the end of April. But financial reports released Sunday reveal a potential struggle for Romney in persuading his party's more conservative donors to open their wallets for him, although there are still more than five months until Election Day.
---