Romney says he's paid at least 13% of income in taxes over last decade
While talking with reporters in South Carolina, the former Massachusetts governor declined to produce records that would back up his claim.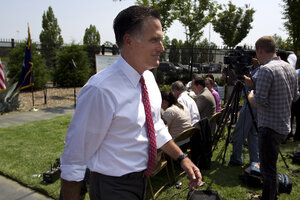 Evan Vucci/AP
Republican presidential candidate Mitt Romney said Thursday that he has never paid less than 13 percent of his income in taxes during the past decade.
But he declined anew to release the records that would prove it.
"I did go back and look at my taxes and over the past 10 years I never paid less than 13 percent. I think the most recent year is 13.6 or something like that. So I paid taxes every single year," Romney told reporters after landing in South Carolina for a fundraiser.
Romney has released his 2010 tax return and has pledged to release his 2011 return before the Nov. 6 election, but has refused to release returns from earlier years.
Democratic Senate Majority Leader Harry Reid, citing an anonymous source, has charged that Romney didn't want to release any more of his returns because the Republican candidate had paid no taxes in some years.
"Harry Reid's charge is totally false. I'm sure waiting for Harry to put up who it was that told him what he says they told him," Romney said.
Obama campaign Lis Smith responded by telling Romney to "prove it."
"He has forfeited the right to have us take him just at his word," Smith said.
White House spokesman Jay Carney declined to comment on Romney's tax rate. He said Democratic President Barack Obama believes "the tradition for presidential candidates to put forward multiple years of their tax returns is a useful and valuable one. Not always comfortable."
---