McCaskill hits Todd Akin with new ad, raises 'legitimate rape' remark
Todd Akin is getting $250,000 in support from the Freedom's Defense Fund. But the Republican National Committee isn't supporting Todd Akin.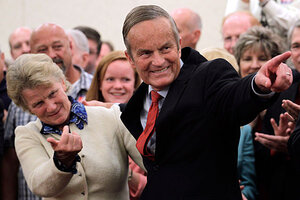 (AP Photo/Jeff Roberson)
Missouri Sen. Claire McCaskill is airing a new ad highlighting Rep. Todd Akin's much-criticized remark about rape, moving quickly to capitalize on her Republican challenger's comment as it became clear Tuesday that he wasn't dropping out of the Senate race.
Akin also sought to capitalize on Tuesday's deadline for candidates to withdraw by court order from the Missouri ballot. Instead of quitting, the congressman rallied with about 200 supporters in St. Louis before launching a statewide bus tour and asked for donations to replenish his financially strapped campaign.
Akin has repeatedly apologized and rejected calls from top Republicans to quit the Senate race after a television interview aired Aug. 19 in which he said that women's bodies have ways of averting pregnancy in cases of what he called "legitimate rape."
RELATED: Eleven Mitt Romney gaffes
Some doubted his resolve to remain in the race, making Tuesday's drop-out deadline an important mark six weeks before the Nov. 6 election. But the 5 p.m. deadline passed without Akin quitting.
At his St. Louis rally, Akin said he was "given a trust" by voters who nominated him in the Aug. 7 Republican primary. He also compared himself to former Missouri Sen. Harry Truman, who overcame opposition from fellow Democrats to win re-election in 1940, later becoming vice president and then president.
---