Sen. Scott Brown apologizes for tomahawk chops by staff
In a second video posted Wednesday, Scott Brown supporters' war whoops are heard as Brown criticizes Elizabeth Warren's claims of Native American heritage. Brown apologized for staff members shouting war whoops and performing tomahawk chops during a rally days earlier in Boston's Dorchester neighborhood.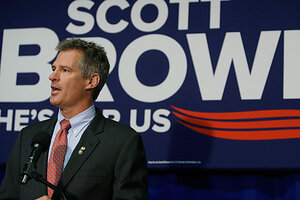 AP Photo/Elise Amendola
Republican U.S. Sen. Scott Brown and Democratic rival Elizabeth Warren challenged each other to provide more details about their work histories on Wednesday, the day a second video surfaced showing Brown speaking to supporters while war whoops can be heard in the background.
Late Wednesday, a spokeswoman for Brown issued a statement saying that he regretted that members of his staff were seen in an earlier video shouting war whoops and performing tomahawk chops, an apparent reference to Warren's claims of Native American heritage, and that they have been given their "one and only warning that this type of conduct will not be tolerated."
Earlier in the day, Warren faulted Brown, a lawyer, for failing to release the names of his clients during his years of public service, including the time he served in the U.S. Senate and Massachusetts Legislature.
RECOMMENDED: Elizabeth Warren and Cherokee heritage: What is known?
"As I understand it, he has been in public services now for 25 years and had never released the name of a single client," Warren said during a campaign stop in Boston.
Brown reported earning more than $147,000 from his law firm from 2008 to 2010.
Brown sent out a letter earlier in the morning calling on Warren to provide an accounting of her corporate legal clients during her years as a law professor at Harvard University.
He has criticized Warren for her legal work in the 1990s for LTV Steel as it fought mandated health care payments and her work as a legal consultant for Travelers Insurance in a U.S. Supreme Court case.
---