Georgia governor primary: Has Sarah Palin left GOP in disarray?
Sarah Palin endorsed Karen Handel in Tuesday's runoff in the Republican primary for Georgia governor. Palin and her fellow 'mama grizzly' have taken aim at the state's GOP establishment.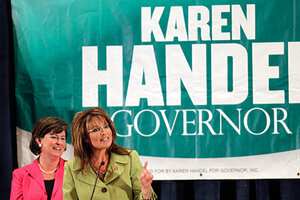 John Bazemore/AP
Sarah Palin's endorsement of Karen Handel in the Georgia Republican gubernatorial primary runoff Tuesday could provide a cautionary lesson for a the GOP: A mama grizzly protects its cubs without much concern for the damage it's causing.
Ms. Handel has made good use of her induction as one of Ms. Palin's "mama grizzlies." Palin has helped Handel cement her image as an outsider campaigning to slash state spending and combat corruption. Polls have her neck and neck with former Rep. Nathan Deal, a state GOP stalwart.
On one hand, Palin is dramatically affecting the course of conservative women in politics, mixing a new vision of feminism with the insurgent ethic of the "tea party" – unafraid to take on the political establishment on both the right and left.
---