Winner declared in close GOP runoff for Georgia governor
Former US Rep. Nathan Deal is the GOP nominee for Georgia governor, after 'mama grizzly' Karen Handel concedes. Republican voter turnout was high, indicating an invigorated GOP base.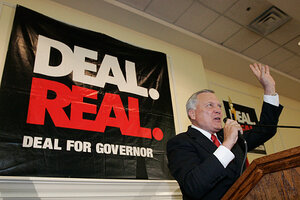 John Amis/AP
"Mama grizzly" Karen Handel conceded a vitriolic Georgia Republican gubernatorial primary fight Wednesday to former US Rep. Nathan Deal, notching a razor-thin victory for a long-time establishment politician against a self-proclaimed outsider who vowed to take on entrenched party politics in this solidly red Southern state.
On the national stage, Ms. Handel's loss, after she was catapulted into the frontrunner spot by an endorsement from former Alaska Gov. Sarah Palin, will likely be read as a sign of the limitations of Ms. Palin's "tea party" message – even in some of the most conservative corners of the country. But perhaps the big story in the Handel-Deal runoff was Tuesday's turnout. More than half a million Republicans – nearly quadruple the average turnout for an off-year election – came to polls to vote in temperatures hitting the high 90s.
That number is likely to put Democrats across America on notice that they'll face an invigorated GOP base in the general election on Nov. 2.
"What this election will really tell us is how passionately people care about things locally and nationally, and that's a pretty good snapshot of how those people are going to behave in the general election," says Mary Stuckey, a political scientist at Georgia State University.
---